If unaware, Dior is an iconic brand producing stylish, fashionable, and trendy handbags. Whether you are a luxury collector or just looking for a bag that can match your style, the best Christian Dior bags can rise to the challenge.
But out of all the options, styles, and lines of handbags from this brand, some iconic Dior handbags are worth your consideration. For this reason, I came up with a list of 10 Christian Dior bags that can add a fashionable taste to your closet.
And Christian Dior being a billion-dollar company, I had to research hours to come up with this list.
1. Dior Oblique Bag
When looking for the best Christian Dior bags, I found that their vintage collection is as fashionable as their current trendy designs. This Dior Oblique bag's design was inspired by the vintage shape of the brand's signature lines of the 70s.
This bag is specifically designed to target those who love a touch of vintage in their style. Besides that, this bag is very functional and versatile for everyday use in the current setting.
It has canvas-print details on bowling and saddlebag designs, which reinterprets this brand's heritage.
2. Lady Dior Bag
Lady Dior handbag is one of Christian Dior's most famous handbags. It was designed in 1994 and was initially called "Chouchu." The bag was also identified as "Favourite" before being renamed after Princess Diana of Wales in 1995.
This bag has an unparalleled design and can be found in four variable sizes, from mini to large. It features a "cannage" topstitch design, one of the brand's signature designs that offers you a fashionable yet functional handbag.
This handbag oozes class regardless of the occasion, and you can always make a statement with it on your side.
3. Diorever Bag
If you know Dior's leather tote bag, this next option will look very familiar to you. This is because the Diorever bag is a modernized version of the aforementioned classic bag.
This bag was launched in 2016 and featured clean lines and a classic shape brought to the fore. Additionally, this bag's reversible flap gives it a bold character that highly appeals to modern women.
The Diorever bag is available in three different yet highly functional sizes, and the various colorways of the pack can also suit your moods and style.
4. Dior DIORISSIMO Bag
Like most Christian Dior bags, this one also has a unique touch of elegance in its design. It's one of the most iconic handbags made by the brand due to its timeless elegance. Even though it was launched in 2012, this bag can still offer you a touch of style when combined with the latest fashion wear.
This bag embodies Dior's exceptional expertise when it comes to craftsmanship. It's luxurious and practical simultaneously, so you don't get to sacrifice function for style.
The bag offers users a durable and timeless elegance experience, which is why I considered it in this 10 Christian Dior bags list.
ALSO READ: 10 Best Gym Bags for Both Men and Women
5. D-Fence Saddle Bag
Compact and stylish, it's hard to find a bag that can compete with Dior's D-Fence Saddlebag on the current market. This was first launched as a new mini design in the Summer of 201n.
But don't let this bag's minimalistic design fool you because it's spacious enough to fit and carry your essentials. The finishing on the pack consists of an old gold Dior buckle, which adds a touch of style to the bag.
It is a traditional black color with fashionable patterns that can blend in with your closet and any occasion.
6. Diorama Bag
If you have been a close enthusiast of Christian Dior bags, you must have noticed the Diorama bag's catwalk debut in 2015. This happened during the Spring/Summer show, and the bag has become a popular favorite for many Dior bag lovers.
The street-style set mostly wears the bag and features a contemporary, structured design for everyday use. It's also available in different colors and materials, so you can get one or two depending on your style or service.
The Diorama bag is one of the best Dior bags on the market, and its elegance is timeless.
7. DIOR ADDICT Bag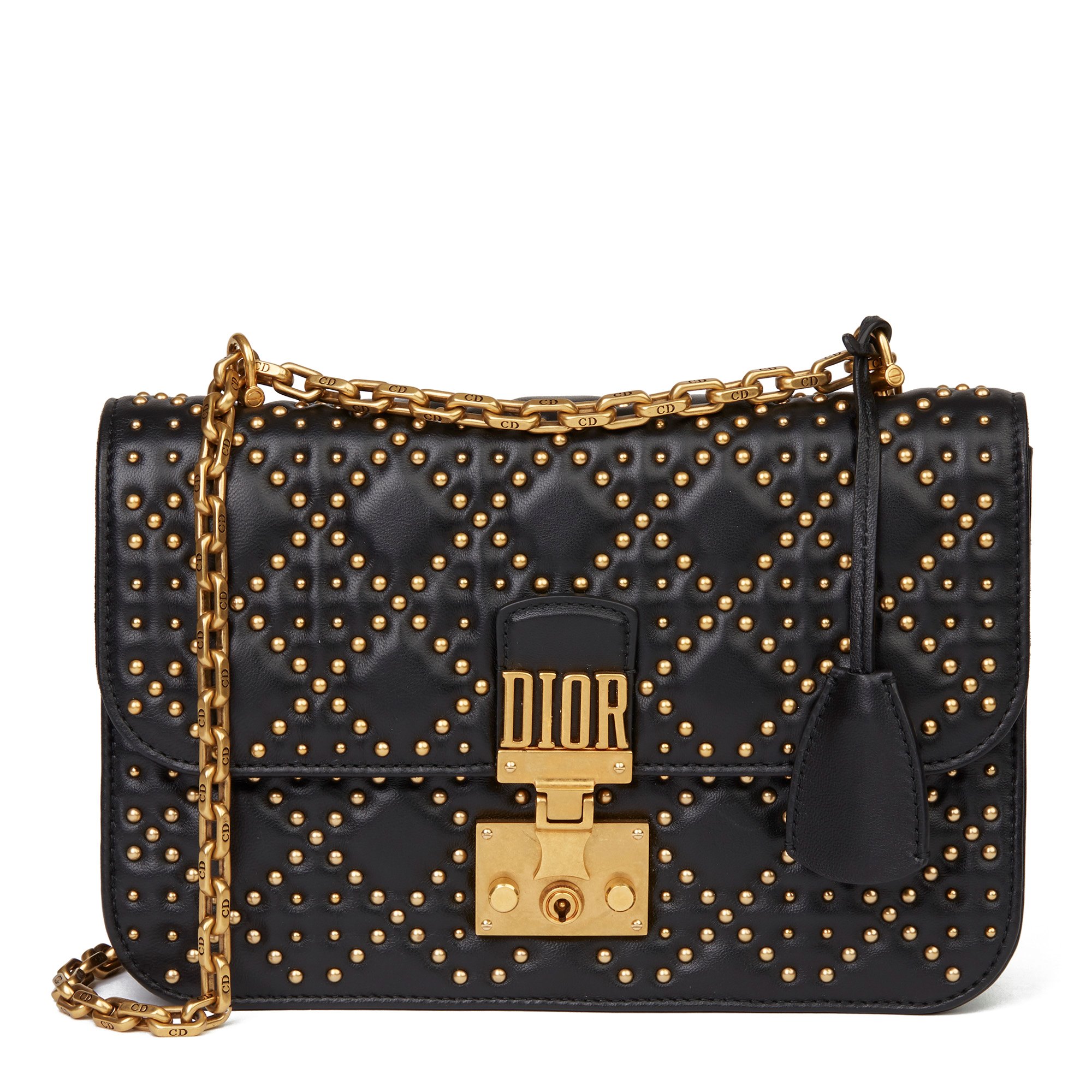 This is one of the newest Dior bag models, which pays homage to the brand's vintage suitcases. When looking at it, you can tell that this bag embodies Parisian fashion and the top handle gives it a classic purse shape.
This bag's detachable strap allows you to carry it how you please. This bag is also available in smaller flap versions, finished with Dior spelled using aged metal letters.
8. Dior Avenue Bag
If you are not attending those flashy and elegant occasions, it would be a good idea to use this Dior Avenue bag. The traditional and well-known bucket bags inspired it; however, it's still stylish as you would expect from a Dior product.
Thanks to this bag's wide shoulder strap, you can either wear this bag in the curve of the arm or on the back. This handbag is roomy, elegant, and ideal for carrying around the city when running errands.
9. J'ADIOR Flap Bag
Like the Diorama bag, the J'ADIOR flap bag also debuted at the Dior show in 2017. It was designed by the brand's artistic director, Maria Grazia Chiuri. After some time, this bag became Dior's statement bag thanks to the love it received from enthusiasts.
I like the metallic lettering of the bag, which stands for the house's new codes. And with a sizeable strap, you can carry this bag on your shoulder or by hand, making it quite useful.
Lastly, this bag is available in various colors to match your personality.
10. Dior 21 Flap Bag
The Dior 21-flap bag was first launched in Autumn/Winter 2018. It features the brand's signature CD motif lock and a detachable chain designed on aged gold metal. I like the 3D lock design on this bag, and it's the same one you'll see on the C'est Dior bag.
It's a beautifully added clever feature that adds to the style and functionality of this bag. The classic flap design of the bag is also efficient and will facilitate the bag's usability for the entire day.
Final Thoughts
From my perspective, it's hard to go wrong with any of the 10 Christian Dior bags above. Besides that, Dior can offer you both style and function with their fashionable bags.
With the options above, you have some of Dior's most iconic and trendy bags. And while they might not be all the brand has, they certainly have a mix of fashion and practicality.
Therefore, investing in them is a step towards ensuring you get some deserved value for your money.