As a fashionable bag enthusiast myself, I like to keep up with what the fashion trends have to offer. And in my recent browsing activities, I thought that it would be a good idea to come up with a list of the 10 best designer crossbody bags.
Now, I know that there are more options when it comes to choosing designer crossbody bags. However, I picked these on a criteria basis. I observed the budget, style, functionality, and materials used to create these bags.
After hours of effort and research to come up with this list, I am very happy to share it with you so you can make a well-informed decision on your bag of choice.
1. BALENCIAGA – CLASSIC CUIR ARENA STRAP LOGO CLASSIC SMALL CITY Bag
This first option is where style meets function thanks to this 100% Calfskin-made Balenciaga bag. It's available in a mini format and features an adjustable and removable cross-body strap with an additional contrasting embossed logo.
The design also features a zippered closure and semi-shiny palladium hardware (brass). Other features of this bag include:
1 inner zipped pocket
1 front zipped pocket
Hand-braided top handles
1 inner double phone compartment
Canvas lining
And a detachable leather-encased mirror
This Arena lambskin bag is made in Italy and you can easily wipe it using a soft cloth. It also comes with a Balenciaga dust bag for keeping it dust-free.
2. CHLOÉ – DARRYL Clutch in Grained Calfskin & Smooth Calfskin in Cement Brown Bag
It would be inconsiderate for this to miss in this list of the best designer crossbody bags because this bag is worth the consideration. The Darryl line features a sizeable evening clutch, which is crafted from grained and smooth calfskin material.
This is done using a distinctive and easy-going identity for the best results. The top opening frame of this bag features the signature chunky interlaced leather, which brings Maison's leatherwork to light.
You can slip your wrist under the rings of this bag for a unique and elegant hand carry wherever you go. Made from semi-aniline leather, this bag is capable of lasting years of use.
3. SAINT LAURENT – Joan Camera BAG in Y-Quilted Smooth Leather Bag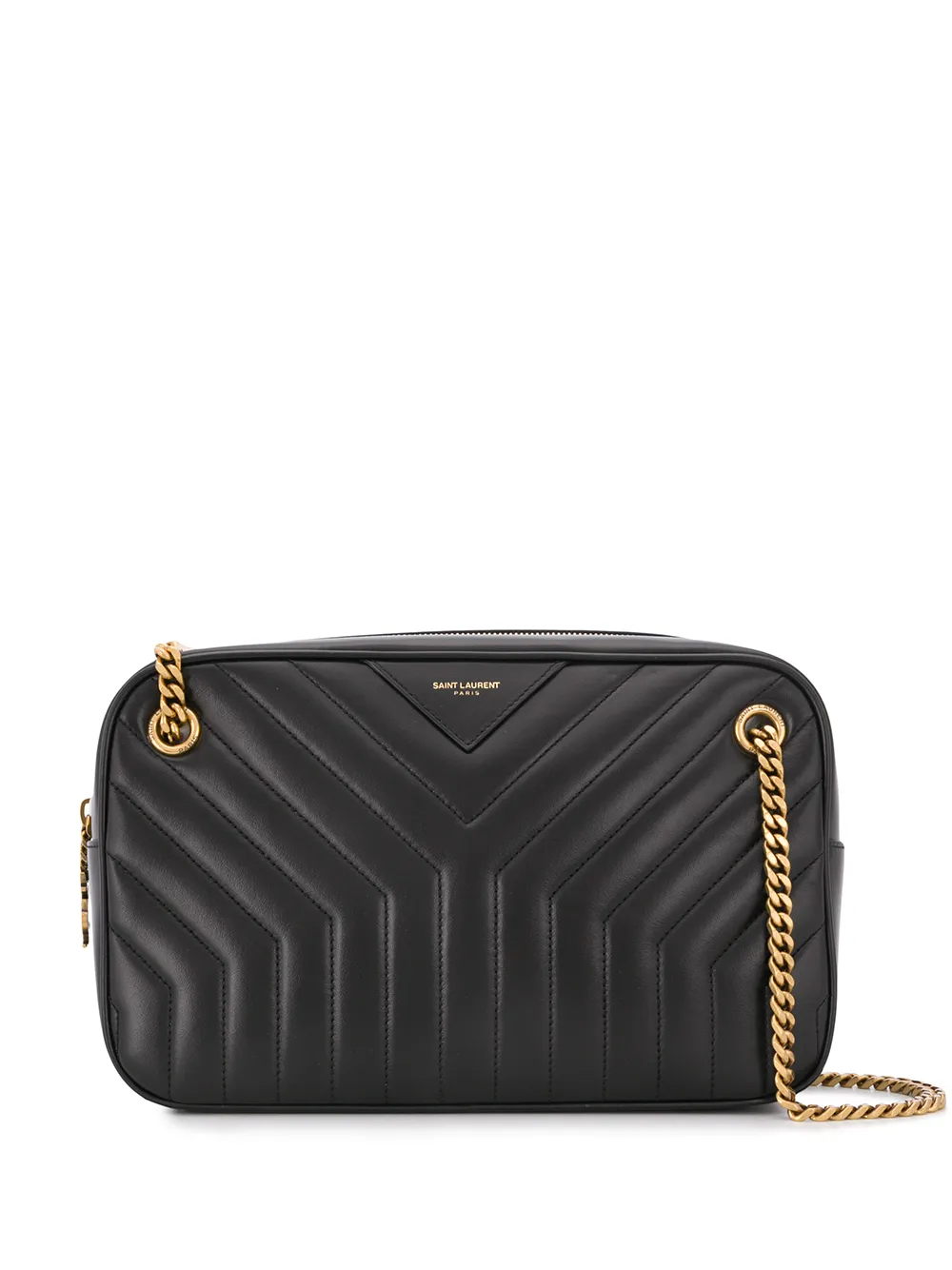 This Saint Laurent designer crossbody bag is one of the most impressively designed bags available on the market right now. It features a decorated Y-quilted over-stitching design that also consists of a leather and chain strap.
In my opinion, the best designer bags should be able to work with every outfit. And that's what I like most about this Joan quilted camera bag from Saint Laurent. The design of this bag is versatile enough to fit adequately in your favorite collection.
With 100% Calfskin Leather, Bronze-toned metal hardware, and zip closure, this bag can deliver a stylish yet functional experience every time you use it.
4. MARNI – Blue SAFFIANO Medium Trunk Leather Shoulder Bag
Made from the Saffiano calfskin material, this is a robust and stylish shoulder bag. It's available in blue color and this bag's convertible shoulder strap features press-stud fastening.
In addition to the design, this bag comes with a concealed patch pocket at the face and a patch pocket at the back face as well. There is also the traditional fold-over flap design with press-release fastening.
Lastly, the bag features two zippered pockets at a 3-compartment interior and a twill lining in black.
ALSO READ: 10 Best Coach Bags to Consider Buying
5. The Chanel Quilted Leather Bag
It's no justice to find the best designer bags list that lacks a Chanel product. This is because nothing explains luxury quite like a Chanel bag. The bag features a quilted design, which has been an integral part of Chanel's manufacturing history.
Coco Chanel designed this bag herself in the year 1995 and it has stood as their signature bag to date. The exterior of this bag features one open pocket, while the interior comes with one zip pocket and 4 open pockets for spacious storage.
Made from high-quality leather and available in black color, this is one of the best designer bags that you can consider buying.
6. Marc Jacobs – The Editor 29 Bag
The design of this bag is the first thing that will attract you to it because it's both solid and stylish. It's made of cowhide leather material and pebbled leather as well, which contributes to its durability.
You also get gold-tone hardware, lock detail, and a keychain to keep your portable essentials secured inside the bag. With a zip interior pocket and a patch interior pocket, you get a spacious enough bag for your accessories.
I like this bag's adjustable shoulder strap that allows hand or shoulder carrying depending on what you like.
7. Louis Vuitton Alma Designer Bag
Mostly popular due to the unmistakable Louis Vuitton logo, this designer bag can match your fashion preferences. It's designed with a practical shape that offers you enough space to organize and carry your necessary portable essentials.
This bag's logo design paved the way for the designer logo craze that has been going on strongly since 2020. I love the fact that you can match any outfit with this designer bag and still get a decent fashion rating.
Made from monogram-coated canvas material, this double-handle bag is available in different colors to suit your personal preferences.
8. Gucci Quilted Shoulder Designer Bag
Gucci is one of the best designer brands and this list of the best designer crossbody bags wouldn't be complete without a product from the brand. But with so many decent products from Gucci in this line, it wasn't an easy task to finalize this option.
The reason I settled for this particular bag is what it offers in terms of functionality and style. This bag is good value for your money, and here is why – first, it features a genuine calfskin leather design that contributes to its durability.
Additionally, this bag comes with an optional aged brass chain shoulder strap accompanied by a matching brass GG logo. This means that you can match this bag with every outfit and its compact yet spacious design adds to its functionality.
9. Kate Spade New York Evangelie Larchmont Avenue Purse
Made from high-quality leather, this Kate Spade New York Evangelie Larchmont Avenue Purse offers you a stylish yet practical design.
It comes with a cross-body shoulder strap alongside the well-placed double handles. This means that you can carry it how you want to and the material used to craft this bag is easy to clean and care for.
Simple and stylish, this is one of my favorite designer bags, and purchasing it would be worth the investment.
10. The Dior Saddle Designer Bag
I included this in my Christian Dior bags list article and it's definitely worth consideration here as well. The first version of this bag made its debut in 1999 when John Galliano was at the helm of the house at the time.
This bag is highly coveted and offers you a touch of two different times, which include the vintage and modern time experiences. Aside from it being one of the best designer bags today, this Dior bag features a practical and stylish design for your usability.
Conclusion
Frankly speaking, it was hard to come up with a list but I certainly tried my best to feature some of the best designer crossbody bags on the market. Whether you are up for a vintage or modern experience, the bags reviewed above have what it takes to deliver that experience.
But you'll first need to ascertain your preferences, budget, and style for a well-informed decision. Once those factors are clear, then the heavy lifting I did in creating this list will be